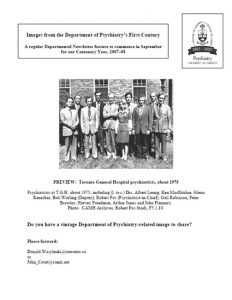 Sharing Images in Psychiatry for Celebrating our Department's Centenary 
We are pleased to launch this light-hearted, interactive Departmental Newsletter feature for sharing historic, quasi-historic, vintage or otherwise memorable photos among members of our department.
Please consider the enclosed notice, and take a few moments to shake the cobwebs off those old photos — people, places, programs, and/or events that collectively will help to illustrate our history. We will be glad to borrow your prints or slides as a loan for scanning them, or your already-digitized versions as e-mail attachments.